Message from the Board Chair and President & CEO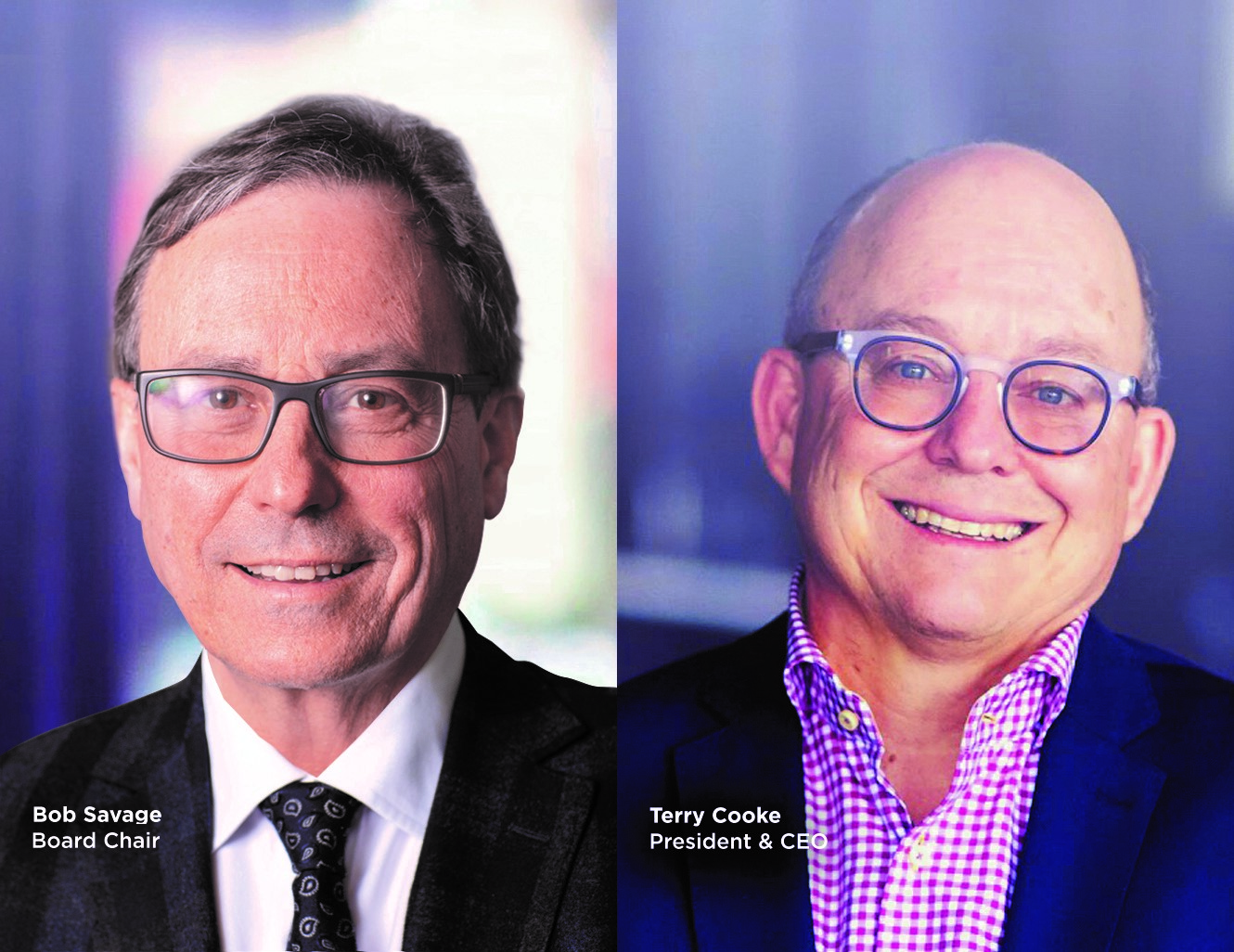 Four months ago, nobody could have imagined the magnitude or the speed at which our lives would change. The COVID-19 pandemic has affected virtually every aspect of our lives — even the content and delivery of our annual report is different this year as we look to meet stakeholder needs in new ways.
There is no doubt we will continue to face disruption for some time. So how do you keep advancing in tumultuous and uncharted seas? For the Foundation, our values — responsiveness, collaboration, inclusiveness, accountability, empowerment — are our compass.   
At the onset of the crisis locally, HCF responded, establishing the Pandemic Response Fund and making 16 emergency grants within days of the lockdown. The fund works to assist vulnerable Hamiltonians now, sustain or expand critical services over the longer term and continue responding to emerging needs throughout Hamilton's recovery and rebuilding.
Collaboration has underscored our community's response, as teams, funders, government, corporations and many others have come together for the common good. We're humbled by the number of donors — long-time and brand-new — who have stepped up to support our pandemic response. New and strengthened relationships and ways of working have been forged that will continue to benefit our community past the crisis.
Inclusiveness is not only an HCF value, it's part of our mission and vision. Although the pandemic touches all of us, the fact is that we are not all in the same boat; some of us are on ocean liners and some of us barely have our heads above water. Reducing inequities will always be fundamental to our work, but especially now as we address the disproportionate effects of COVID-19.
Of course, none of our work would be possible if it weren't for donors over six decades, who believed in us and in the foundation model, and the foresight of successive boards who prepared us to weather this monumental storm. We do not take that trust for granted; accountability to all of our partners and stakeholders remains a priority. On that note, we thank our retiring board members — Dr. Juliet Daniel, Dr. Bill Evans, Milé Komlen, and Marita Zaffiro — for their wise counsel, especially during these last critical months. We also say goodbye to Sheree Meredith, who has retired after many years of excellent leadership to our Philanthropic Services team.
While our five values are both interdependent and equal, it is perhaps empowerment that is our guiding beacon at this strange and unique time.
By increasing the capabilities and resilience of individuals, groups and organizations, we will strengthen our community.
Like all cities, Hamilton faces a long and winding journey to recovery. We will get there. And the Foundation will be there to support our city all along the way. In these uncertain times, count on this: we are here for Hamilton, now and forever.
We'd love to hear from you! Please take a minute to give us your feedback.
Community leadership
Bringing people together on issues that affect Hamiltonians is one way the Foundation works to serve its city.
Over the past year, Hamilton Community Foundation has worked towards its strategic goal of increasing the health and prosperity of individuals and neighbourhoods. This included ABACUS, the Foundation's initiative to increase the likelihood of young Hamiltonians completing high school and going on to post-secondary, supporting school systems to address anti-bullying and our long-standing commitment to working with citizens to build neighbourhood vibrancy.
With the local onset of the COVID-19 pandemic in March, the Foundation quickly changed course to meet Hamilton's immediate and urgent needs. While a number of our leadership initiatives are on pause, we encourage you to read about them and their intent; and to follow their progress in future, knowing that we will continue to listen and learn from our community, and to reshape our efforts as needed through Hamilton's recovery.
Though such a sudden and profound shift in the needs of our community could not have been imagined, a key underpinning to HCF's leadership work is responsiveness. Recognizing both the immediate and longer-term challenges COVID-19 would pose, HCF developed a pandemic relief strategy that both incorporated new areas of focus and shifted priorities within our ongoing leadership work.
Funds and donors in 2019-20
People who give to Hamilton Community Foundation share the desire to make a difference for Hamilton, forever. Donations to HCF are pooled and invested; investment income is the primary source for making grants.
As a Foundation donor, you can create your own fund or give to an existing one. We are pleased to work with you and your professional advisor to find the approach that meets your goals and circumstances.
Amounts, when shown, reflect each fund's balance. Amounts granted from these funds are identified in the Grants by Fund Type list.
Funds shown in bold were established in 2019-20
Funds marked with a cross (†) indicate that the donor has chosen not to disclose the fund balance
Funds marked with an asterisk (*) contribute a portion of their granting to the Community Fund
Community Fund
Giving to the Community Fund provides HCF with the greatest flexibility to respond to Hamilton's needs. Donations of any amount are welcome. Donors whose accumulated endowed donations total $5,000 may choose to have a named fund within one of three Community Funds: Unrestricted, Arts and Environment.
Unrestricted: Addresses Hamilton's highest charitable priorities
Arts endowment: Addresses needs and priorities in Hamilton's arts sector
Environment endowment: Supports a range of initiatives and organizations working towards Hamilton's environmental well-being
All donations to the Arts or Environment funds will be matched by the Foundation on a one-to-one basis up to $1 million. The following lists identify the individual named funds within each of the three sub-funds.
Community Fund:
Arts
endowment
fund
Community Fund:
Environment
endowment
fund
Donor-directed funds
Field-of-interest: Enable donors to support a specific interest area (e.g. the environment, children's needs, the arts, etc.), with the Foundation selecting appropriate grant recipients each year
Donor-advised: Enable donors to recommend the charitable organizations or programs that will receive grants
Designated: Benefit specific charities named by the donor
Scholarships and bursary: Assist and encourage students, including those challenged by education costs
Agency: Established by charities to provide a permanent source of income
Administration: Support administering the Foundation's community leadership, development, granting and communication programs
Funds in progress: Donors interested in working with HCF may choose to build their funds gradually
Flowthrough: The capital and income from these funds are distributed over time
Scholarship and
bursary funds
Funds held on behalf of others
Other charities have placed these funds with HCF for long-term investment.
| | |
| --- | --- |
| Burlington Community Foundation Fund | 74,566 |
| Hamilton Public Library funds | 1,619,383 |
Life insurance policies
The Foundation owns and is beneficiary of life insurance policies donated by Judith McCulloch, Joan VanDuzer, Ronald J. Zabrok and three anonymous donors.
Total face value: $872,000
Estates and funds under trustee administration
At the time of publication, the Foundation had been notified of a charitable donation (subject in some cases to the life tenancies of others) in the following estates or trusts:
Gerda Erika Beretic, Betty Isabelle Bethune, Roger Gilles Brabant, Adam Hugh Clark, Joyce V. Clark, Margaret Hambly, John Dennis Holmes, Kathryn Elizabeth Jones, Barbara Isabel Malcolmson, Josephus Franciscus Maria Mensink, John William Pike, Mary Joan Bonner Renison, George K. Seliga, Julie Slowca, Dorothy Ann Smith, Maria Swarchuk, Vincent M. Wagar
Donors in 2019-20
We gratefully acknowledge the generosity of all our donors this year:
Hamilton Spectator
Summer Camp
Fund
Grants and community leadership in 2019-20
Hamilton Community Foundation offers donors powerful and diverse opportunities to drive positive change. We are unique in that we enable donors to recommend grants to the widest possible range of charitable organizations and initiatives: arts and culture, health and human services, environment, recreation and education. The pie chart shows how our total 2019-20 granting is distributed by sector, and reflects Board-directed granting and the philanthropic interests of those who have established donor-advised and designated funds.
The lists below show our grants in two ways: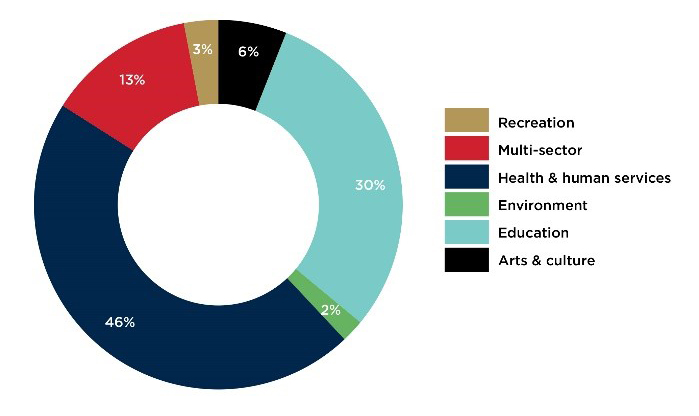 Grants by fund type
These lists show the total amounts granted from all funds at Hamilton Community Foundation, identified by fund type. It also shows our community leadership project supporters and spending. Funds marked with an asterisk (*) contribute to the Community Fund.
Grants from Community Fund
Grants from
field-of-interest funds
Grants from
donor-advised funds
Grants from scholarships
and bursary funds
Grants from
designated funds
Total grants and community leadership spending
| | |
| --- | --- |
| Total grants approved | 11,099,227 |
| Adjustments for deferred grants | (169,549) |
| Total grants paid | 10,929,678 |
| Total community leadership projects | 533,679 |
| TOTAL GRANTS AND COMMUNITY LEADERSHIP | 11,463,357 |
Grants by recipient organization
These lists show the details of all grants to all organizations in 2019-20:
Grants marked with an asterisk (*) are those made from the Board-directed Community Fund or field-of-interest funds. All other grants are from donor-advised or designated funds and reflect the philanthropic interests of those who established the funds
Organizations identified in italics are charitable sponsors for the grant
Some grants are payable over multiple years
In addition to the grants below, the Foundation provided grants totalling:
$60,930 to 19 organizations/camps that provided 504 one-week camperships through the Hamilton Spectator Summer Camp Fund
$214,174 in scholarships and bursaries to 76 students, and an additional $239,399 to 21 academic institutions and organizations
Financial highlights
Overview
The 2019-20 year included record-breaking highlights, as well as previously unexperienced challenges resulting from the COVID-19 pandemic outbreak in the last quarter of the financial year. The continued support from our many donors resulted in total donations at $35.1 million, the second highest in HCF's history including donations of property and private equity of $27.7 million. Grants and community leadership spending also reached a record high of $11.5 million. During the year, Burlington Foundation, launched by HCF in 1999, determined that it had reached the size and stage where it wished to manage its own investments rather than maintaining them in HCF's pools. We congratulate them on their growth and more than 20 years of serving their city.
The investment markets to the end of January 2020 were very promising, with our portfolios recording returns at +10 percent for the first 10 months of the financial year. In direct contrast to strong donation levels and grants made, the global pandemic led to a significant market collapse in February and March resulting in an annual public market return of -8.4 percent, mitigated by our impact investments for a total return of -6.9 percent for our overall portfolio. Unlike previous financial crises, the pandemic has a direct impact not only on HCF's investment return; it directly affects HCF's core mission of creating a vibrant, inclusive and diverse Hamilton.
What we currently know from a financial and operational perspective:
As long-term investors, HCF's investment and spending policies recognize that volatility is a reality of public market investing. Our spending policy determines the amount available to grant in any given year, and enables HCF to grant at a consistent level, with excess income in higher-return years used to support income shortfalls in lower-return years. In spite of the market uncertainty, HCF's spending policy remains at four percent, as our Board approved maintaining grant spending in these critical times for the community.
Our reserves enable us to continue to grant and maintain operating capacity when the market is weak, and were at their policy maximum of $4.6 million at the end of this year. The Board approved an additional $500,000 draw from the reserve to support HCF's Pandemic Response Fund.
HCF has continued its work to reallocate more assets from our public market portfolios into impact investments that a) align with our mission, b) provide the required investment returns, and c) provide opportunities not correlated with public markets. With little or no correlation to the public markets, they have acted as a buffer to market volatility.
HCF's staff moved to working remotely effective March 16, 2020. Our staff are safe and remain productive working offsite, and have done a great job adjusting to this change at a time of significant community need and global uncertainty. Our Board and committees continue to work together via technology to respond to the considerable and changing needs of our community.
HCF has maintained robust scenario planning, which has served us well, in order to react to material market disruptions. We have also activated our cost-containment strategy pending having a clearer line of sight into the longer-term investment outlook. The "re-imagining" of our annual report is just one of these initiatives. With our Board, we will continue to manage the Foundation's operations prudently while protecting our capacity to deliver on mission.
Before the end of March, the Foundation had established a Pandemic Response Fund, with $2.0 million from our unrestricted granting and reserves, and granted $305,000 to 16 organizations immediately addressing critical services to high-need, vulnerable people.  More than $1.0 million has subsequently been contributed to this fund through the generosity of donors.
The Foundation is also participating in the Government of Canada's Emergency Community Support Fund, designed to provide rapid response to support charities working with vulnerable populations affected by the COVID-19 crisis. This partnership is facilitated through Community Foundations of Canada.  At the time of preparation of this report, HCF has received half of an approximate $1.2 million commitment.
Lastly, in this unpredictable time, we will continue to communicate with our stakeholders often to ensure you are aware of our work and status.
In keeping with our commitment to financial accountability and transparency, full audited financial statements are here. If you have any questions regarding our financial highlights, please contact Annette Aquin at a.aquin@hamiltoncommunityfoundation.ca or by phone at 905.523.5600 x 243. You may also access the HCF T3010 tax return information here.
Board of Directors, committees and staff 2019-20
We thank the following for their contributions this year.
Auditors
BDO Canada LLP
Bankers & Custodian
Bank of Montreal and BMO Private Banking
Investment Managers
Connor, Clark and Lunn Private Capital Ltd.
Jarislowsky Fraser Ltd.
TAKE OUR ONE-MINUTE SURVEY