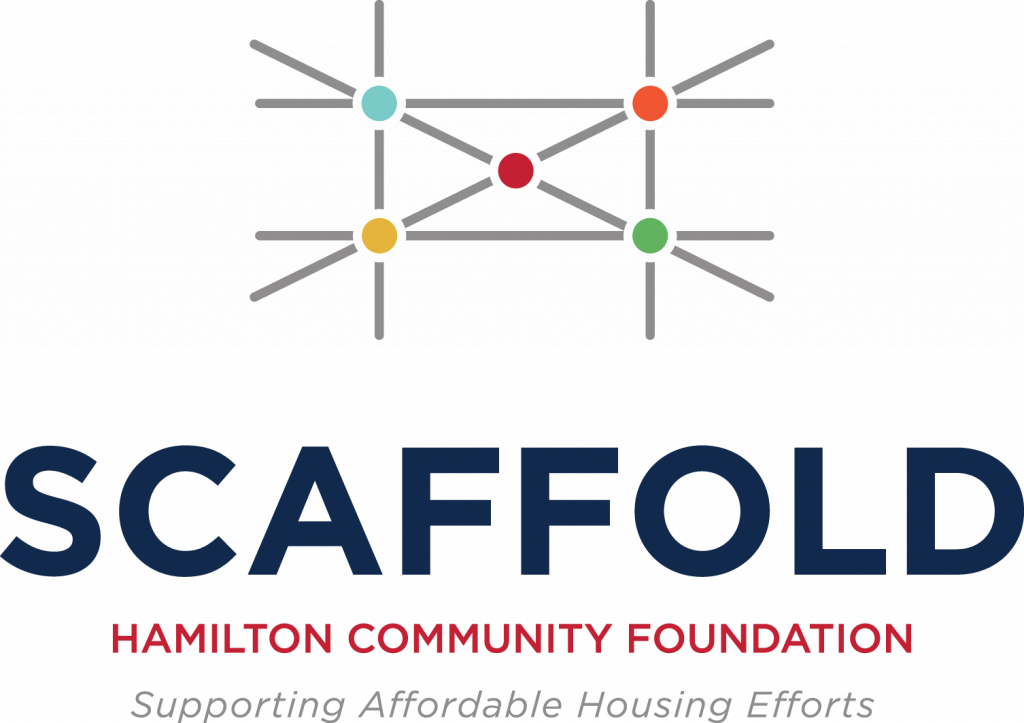 Hamilton Community Foundation has made a 10-year, $50 million commitment to affordable housing that brings together its resources based on research, consultation and the advice of policy experts to work toward addressing this urgent need.
We're calling this strategy SCAFFOLD: Supporting Affordable Housing Efforts, because just as scaffolding delivers the right support at the right time in a construction project, SCAFFOLD will guide HCF's decisions on where our philanthropic capital will have the most impact and the best roles we can play.
Over the last year our community leadership work in this area included:
Supporting the development of the City of Hamilton's Housing Sustainability and Investment Roadmap, recently approved by council. This included sharing the relevant findings of the work of Steve Pomeroy (Industry Professor, McMaster University, Canadian Housing Evidence Collaborative) as input to its development. In addition, HCF was a funder of two reports by Dr. Brian Doucet, Canada Research Chair in Urban Change and Social Inclusion, which helped inform the plan. HCF has also provided funding to the City's new housing secretariat to support the Roadmap's implementation.
Funding, convening support and participating in Social Innovation Canada's Transit-Oriented Affordable Housing Lab which brings together partners to preserve and create affordable housing projects along transit corridors, including LRT. The goal of this lab is to develop up to three affordable housing projects for Hamilton, that could serve as pilots for other Canadian communities. Partners include the City of Hamilton, McMaster University's Canadian Housing Evidence Collaborative, Hamilton is Home (an alliance of community housing providers) and the Federation of Canadian Municipalities. The lab recently received $400,000 of funding from CMHC's National Housing Strategy Solutions Lab program.

A history of commitment to affordable housing
Just as there is no one person, sector, organization, or level of government that can solve the current crisis in affordable housing, there is also no single solution to this systemic problem. That is why HCF supports initiatives across the housing continuum from supportive housing to affordable home ownership.
Over the past eight-years HCF has been on a path to support the affordable housing ecosystem. It started in 2015 with a mortgage to Indwell, a local affordable housing provider, that helped finance the development of 47 units of supportive housing on a former used car lot on Main Street East.
Our work since 2015 has included:
Helping local affordable housing providers to act quickly and acquire land in this heated real estate market. This enables properties to be held in the non-profit sector and protects opportunities to realize critical affordable housing projects.
Granting to Hamilton is Home, an alliance of affordable housing providers, funding research through the University of Waterloo, and providing funding to the City of Hamilton to assist their efforts to develop the Hamilton Sustainability and Investment Roadmap for affordable housing in our community.
Funding strategies designed to rebuild a healthy "non-market" housing sector (housing not affected by market influences such speculation). These include supporting a national affordable housing development organization to add much-needed development capacity to the system and providing patient capital (long-term capital where we are willing to defer return) to acquire existing private market rental stock, stabilize these units and transfer ownership to non-profit or co-operative ownership.
Investing in affordable housing funds across Canada and paving the way for other community foundations to launch their own impact investing journeys.
As of our March 31, 2023 year end, HCF has $12.7 million in investments across the affordable housing continuum. We have $3.9 million in further commitments pending funding and $6.2 million in investments that have been repaid to HCF in the last eight years and recycled back to the community. Since we started this journey, we have invested a total of $18.9 million and with our current commitments will have $22.8 million focused on affordable housing. Click here to view a snapshot of HCF's contribution, to date, of catalytic capital as part of the financing required.
We continue to develop our comprehensive affordable housing strategy with a goal of more than doubling our work to date to the $50 million target. There is much to be done in this urgent community and national issue and we continue to focus on bringing people, ideas, and resources to bear in our role as a community foundation.
Guided by research
HCF has been guided by research and expertise in developing our affordable housing strategy. You can access some of these resources here.