ABACUS lets youth imagine new possibilities
In part 2 of our 4-part Q and A, Celeste Licorish reflects on HCF's signature education initiative in Hamilton – ABACUS.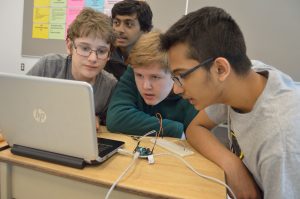 ABACUS is an HCF initiative that focuses on the middle school years for kids. What is the impact of ABACUS at a broad level?
What I love about ABACUS is that it focuses on changing the trajectory for families who are trapped in cycles of poverty. Parents in these types of situations are not always able to inspire their kids even to consider post-secondary education.
ABACUS takes a long-term view on these kinds of issues which tend to recur in families. If parents did not finish high school or university, it decreases the likelihood that their children will even think of post-secondary education as something they can do, whether or not they actually have the academic ability to do it.
ABACUS turns this on its head and looks at the middle school years for kids who typically wouldn't have the opportunity to go for a post-secondary education. By leveraging resources like the Community Fund and the knowledge and connections the Foundation has, we can ask ourselves, how can we get kids to think about their lives differently?
How do you think ABACUS addresses poverty specifically?
ABACUS helps to break the cycle of poverty because kids will be enabled to finish high school and then go into either the trades, college or university.  It presents options that can change their lives.
It's a good example of how we work.  The Foundation looks at a big problem – kids aren't graduating – and asks how can we change this completely, change the direction? This is the brilliant thing about ABACUS. For example, we have Grad Track co-ordinators who are actually in the schools talking to kids every week, getting to know them and finding out what is going to help them think differently about themselves. This then aligns with what we do with scholarships and bursaries since these same kids are coming through after graduation. So ABACUS plays a key part in how we can accurately and effectively change outcomes for these kids.
In part 3, Celeste talks about her personal experiences with the Neighbourhood Leadership Institute.