McCallum McBride Fund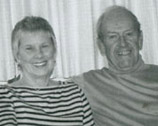 The McCallum, McBride Fund was placed under the umbrella of Hamilton Community Foundation this year, with its current directors forming the Fund Advisory Committee of the new donor advised fund. Originally incorporated in 1966 as The McBride Foundation, it has made grants totaling more than $200,000 over the years in the areas of the environment, and abused women and children. Grants are also made annually to help local agencies provide Christmas gifts and holiday food baskets. The fund will continue to grant in those fields.
The McBride Foundation was originally established by Peggy McBride, the granddaughter of the founder of Robinson's, Hamilton's long-time department store. She left her estate to her foundation when she died in 1978. The McBride Foundation was managed until recently by Peggy McBride's lawyer, Doug McCallum, with a Board of Directors of knowledgeable community volunteers. Doug remembers encouraging Peggy to create a foundation with her estate. "I liked Peggy very much," he says, "and life threw her some challenges. She was a generous spirit."
Over the years, The McBride Foundation has grown, thanks to additional financial contributions from friends of the foundation. To honour Doug McCallum's key role
in its development, the Advisory Committee has chosen to rename the fund McCallum, McBride.
"Doug McCallum has been the heart and soul of this foundation over the years," says Carole Capling, the current Chair of the Fund Advisory Committee (pictured with Doug). "And we're delighted that Doug and Mary's son, John, has now come onboard too."
Hamilton Community Foundation will take over administration and investment responsibilities for the fund, while the Fund Advisory Committee retains involvement in the grantmaking decisions. The McCallum, McBride Fund is one of several foundations for which HCF has been chosen as "successor."
Excerpt from 2002-2003 Annual Report