The John & Esther Marshall Memorial Fund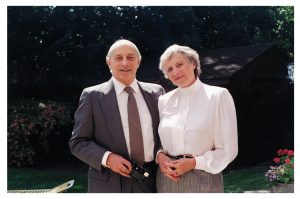 When John Marshall asked a friend to set him up on a blind date for a University of Toronto dance, he had no idea he was about to meet the love of his life. "From the beginning, I could see that Esther had a quiet and steady presence. She was well liked and respected by everyone. She had a good laugh." The date and the dance were a huge success. John married Esther, a Brantford native, on May 29, 1948. Although both graduated from Osgoode Hall Law School, John, who also completed a degree in aeronautical engineering and was appointed Queen's Counsel in 1967, says they seldom talked law. "Esther practiced for a year in her father's firm, but when the first of our four daughters came along, her attention turned to family and community life."
Esther gave extensively to the community through her volunteer activities, including membership on the Board of Directors of the Hamilton Community Foundation from 1979-1983, the Junior League of Hamilton-Wentworth, volunteer committee of the Art Gallery of Hamilton, and the Board of Governors for McMaster University.
The value of public service may well have been learned from her widowed father, Ross Macdonald, who served as a Member of Parliament for Brantford, Speaker of the House of Commons and a member of Lester Pearson's Liberal Cabinet. When he was appointed Lieutenant Governor of Ontario in 1967, Esther often acted as his hostess for official engagements.
Through a gift of securities, John and his four daughters – Ann, Claire, Mary and Janet – established a fund in honour of their wife and mother who died in September of 1995. The Fund is used to make contributions to arts and cultural organizations in Hamilton. Daughter Mary Prime says the Fund is a wonderful way to keep her mother's memory alive. "My mother always put others first. She was admirable in every way and she remains a strong reference point in all our lives."
In 2003 the fund was passed to the daughters on John's death. Because they remembered the lifelong value of their early experiences in the arts, they now use the fund to provide similar opportunities to children in Hamilton today.
The four siblings work closely with Hamilton Community Foundation staff to make grants from the fund their father established in memory of their mother in 1995 and passed down to them on his death in 2003.
They support the organizations Esther and John favoured, but they have also branched out to fund priorities identified by HCF. "The Foundation has been superb in giving us options to consider," says Janet. The sisters are attracted to projects that expose low-income children to the arts, like hands-on summer arts camps and artist-in-the-classroom programs. They feel their parents would have appreciated that direction too.
"Our parents loved the arts and they enjoyed contributing time and resources to the arts community in Hamilton," says Ann. "We want to make sure that continues." Now that the family is scattered across Canada, the fund is "an anchor back to the Hamilton community where we grew up," adds Mary.
"Dad was so pleased to have established this fund in memory of Mum," says Claire. "We're very, very pleased to continue it."