A family affair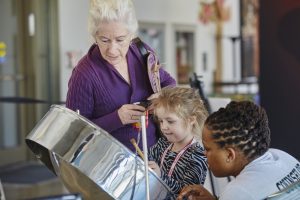 The Hamilton Philharmonic continued its tradition of bringing classical music to new ears with a complementary invitation for families living in City Housing Hamilton to attend its Family Concert Experience.
Supported by an HCF Creative Arts Fund grant, the program aims to introduce families to their local professional symphony, create a sense of belonging in their community's arts organizations and build a special family experience. It included pre-concert activities such as create-your-own-instrument crafts and an instrument "petting zoo".
As an early "welcome to your symphony," HPO representatives attended tenant meetings to promote the concerts. Of City Housing Hamilton's 13,000 residents, almost half are children.
Excerpt from Spring Legacy 2017 newsletter