Christine Hamilton Scholarship Fund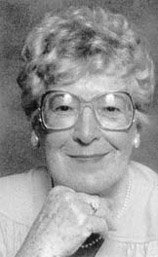 Christine Hamilton embodied many of the best characteristics of this city. She arrived here as an immigrant in 1949. (She put a hatpin in a map and "it stuck in Hamilton. So did I," she was fond of saying.) Unpretentious, resilient, with a big heart, a raucous sense of humour and a flair for storytelling, she is best known for inventing The Geritol Follies in 1976 and guiding its growth from a recreational choir for seniors into a much-loved Hamilton institution.
Audiences in Hamilton, as well as in Mississauga, Glasgow, Edinburgh, Toledo and Florida, have been roaring with laughter and applauding the song and dance antics of the Geritol Follies ever since. Hundreds of seniors in their 60s, 70s and 80s have had the joy of performing. Our attitude to aging has been forever changed.
Christine Hamilton's legacy will live on – not only through the continuing performances of the Follies, but also through scholarships established in her honour at Hamilton Community Foundation for students in Gerontology at McMaster University.
Christine Hamilton may have left us in March 2002, but her spirit and her legacy will continue to shape the community she helped to build.
Excerpt from 2001-2002 Annual Report