Evelyn Storms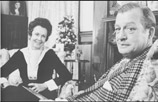 She kept company with a prince – and a movie star – but those closest to Evelyn Storms say she never lost the common touch.
When she died in November 2001 at age 90, Evelyn still lived in the family home built at the turn of the century on Ravenscliffe Avenue. Her father, Harry Utter Hart, moved to Hamilton from the United States when he was appointed chief engineer and vice-president of Westinghouse Canada Limited. He built the stately yellow brick house for his wife and two daughters. It was the only home Evelyn ever knew save for her years at Wellesley College, a small liberal arts college for women near Boston, where she earned a BA in history in 1933. It was there that Evelyn dated movie legend Jimmy Stewart and the Prince of Wales, heir to the British throne who would later abdicate in order to marry Mrs. Wallis Simpson.
Evelyn was in her late 40s when she married Richard (Dick) Storms, vice-president of manufacturing controls at Dofasco, in 1960. The union lasted until Dick's sudden death 16 years later. An engineering graduate from the Royal Military College in Kingston, Dick spent a 40-year career at Dofasco, with a five-year break to serve during World War II.
Paul Phoenix, who worked as a summer student for Dick, remembers him as a brilliant man and an innovative thinker. "He spoke quickly and I often had to translate to my colleagues just what it was he wanted done. I learned a lot from him and really admired him. Dick was also very caring and loyal. When my wife and I left for our honeymoon, our apartment wasn't yet furnished. The furniture arrived while we were away and when we returned, Dick, under my stern little grandmother's orders, had the whole place set up."
Dick's daughter Nancy Prieur recalls that Evelyn and Dick loved to entertain. "They made a funloving, intelligent and accomplished couple who were renowned for the gracious welcome they extended to visitors. Their home, decorated mainly in shades of pink, reflected that warmth. Evelyn was dignified and dressed with great taste but she was also funny and mischievous. Her volunteer interests included the Junior League and Red Cross. Dad had a keen interest in architecture. He was an accurate draughtsman and a strong mathematician, whereas Evelyn enjoyed history, art and popular music. They shared a passion for golf and were members of the Hamilton Golf and Country Club, where Evelyn was club champion. They were wonderful dancers too. My father also taught hockey and was a beautiful skater."
After remembering Centenary United Church, numerous friends, family members and employees, Evelyn left the residue of her estate to the Hamilton Community Foundation to honour the memory of her parents, Harry and Louise (Lulu) Hart and her husband, Dick. The generous bequest will make more grants possible from the Community Fund.
Excerpt from 2002-2003 Annual Report