Harold E. Clarke Fund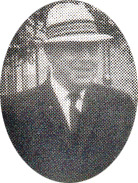 Born in Liverpool, England in 1904, Harold Clarke trained as a banker before emigrating to Canada where he joined the Canadian Imperial Bank of Commerce. He was happiest, according to his friend and neighbour Karen Harrison, when tinkering with broken equipment whether it was cars, sump pumps or radios. His skill with radios was in demand during the Second World War when he joined the Royal Canadian Air Force and later, the Royal Air Force in England where he was assigned to work on radar equipment. With the RAF, he also served a ten-year stint in India.
Harold Clarke and Nancy, his wife of 50 years, eventually settled in Fruitland. They loved dogs and lavished affection on Princess, their German Shepherd. Predeceased by his wife, Mr. Clarke died in 1997. A year later, the Foundation received the residue of his estate.
Excerpt from 1997-1998 Annual Report