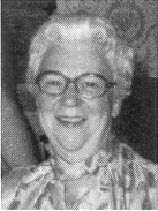 Mary Josephine Heels, born August 25, 1908, had a life-long passion for music, and church music in particular. An accomplished pianist and singer, Mary was the contralto soloist at Zion United, Central Presbyterian and Binkley United churches. In the late 1920s she and her sister Ellen – later the Rt. Honourable Ellen Fairclough – entertained each week on their own half-hour radio program. Mary's daughter, Dr. Joan Heels, said the $5 they were paid for each show was immediately used to purchase sheet music for the following week.
Her mother was vivacious and full of life, Dr. Heels said, and she loved to hear and tell a good joke. A graduate of Commercial High School in Hamilton, Mary worked full time at the Fairclough Printing Company and was busy every night of the week with community activities. A president of the Zonta Club Hamilton 1 and president of the Women's Ad and Sales Club, she also established a scholarship with the Hamilton Kiwanis Music Festival in the church solo class.
As a tribute to her mother, Dr. Heels, a vocal teacher herself, established a fund at the Hamilton Community Foundation this year for worthy young music scholars.
"I was able to have piano and singing lessons as a child because my mother worked and I feel this is a way to honor her memory. I hope it will help students further their music education," says Dr. Heels. The Hamilton Community Foundation, she added, is a safe place for the fund. "They have the expertise and will take care of it when I'm gone."
Excerpt from 2000-2001 Annual Report