James and Mary Phin Fund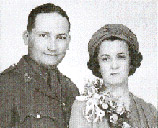 When the serious, courtly Major James Philip Phin married fun-loving Mary Stewart MacMillan in Pembroke on August 27, 1940, the couple intended it to be a quiet affair. The wartime wedding of two well-known Hamiltonians was difficult to ignore, however, and members of the battery who were stationed at Petawawa Military Camp attended the ceremony enmasse. James Phin's impressive achievements included being Commanding Officer of the Eleventh Field Battery (the city's first militia unit originally formed in 1856), alderman, host to King George VI and Queen Elizabeth in 1939 and member of Baritone Masonic Lodge. During the Second World War, he would add to this distinguished record of service by being the only Canadian to command field artillery, antiaircraft and antitank units. On the 50th anniversary of the war's end, he received a medal for his involvement with the liberation of Brittany.
In 1944, he returned to civilian life and resumed his position with the Mixed Concrete and Supply Company, later known as RED-D-MIX Concrete. At this time he was approached to run for the federal Conservatives and numbered Ontario Premier John Robarts and Prime Minister John Diefenbaker among his friends. Later confined to a wheelchair due to severe arthritis, but fiercely independent, Major Phin remained in his own home.
Mary had predeceased him as the result of a severe asthmatic attack. After Major Phin's death, the foundation was notified of the couple's generous plans for the community they had served so well in life — bequests were made to the Hamilton Community Foundation.
This fund forms part of the Community Health Education & Research Fund, supports several specific charities and also supports the unrestricted Community Fund.
Excerpt from 1995-1996 Annual Report