Jeanne Scott Fund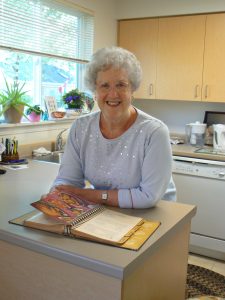 Jeanne Scott's great love of Hamilton and her desire to help others are nourished through her fund at Hamilton Community Foundation.
Jeanne Scott learned many lessons from her mentor, the late Dan Giannini; for her, giving back to your community has been the most rewarding.
"Hamilton has been wonderful to me," says Jeanne. "Dan always told me if you're fortunate, don't forget to give back to the things that have meant something to you."
For almost 50 years, Jeanne worked as Dan's assistant in the financial services industry. As new immigrants from England, Jeanne's and her husband's early years in Canada were not easy, and the opportunity to cash in an unexpected $1,000 accumulated sick benefit seemed like a windfall.
"Dan convinced me to let him invest it," says Jeanne. "I was reluctant. It was more money than I had ever had, but I had faith in him." Dan began to show her how to manage her investments and, as a savvy businessperson in her own right, Jeanne followed his example and watched other advisors they worked with. She also began to follow Dan's lead in donating to local charities – including HCF.
"I would attend meetings with him at the Foundation," she says. "I liked what they were doing and the way they did it.
The fact you could support your interests really appealed to me."
"I used to live in the North End," she says, "and I loved the diversity – hearing 'good morning' in so many languages; it
reminded me of my travels through Europe and made me feel less homesick. Living in Hamilton, I was active in opera,
musical theatre, curling and my church. I made so many friends; the city really enabled me to do the things I loved."
Jeanne established a designated fund at HCF with gifts of shares, supporting the Good Shepherd Centre where she is a long-time volunteer, and the HCF Community Fund, recognizing her great love of the city. As a classically trained singer and performer, she also supports a bursary award for performing arts students through her fund.
"I'm so happy to be able to give back to this city," says Jeanne. "I never thought I'd be able to do what I have been able to accomplish – or that it would give me so much pleasure. It makes me feel that my purpose in life has been fulfilled."
Excerpt from Fall 2008 Newsletter