Jeff Dickins Memorial Fund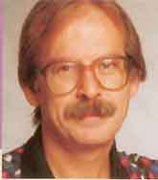 In the whirl of deadlines that constitutes the newspaper business, it's easy to forget about people, whether it's those who once made news or those who once reported it.
But Jeff Dickins' colleagues at The Hamilton Spectator haven't forgotten the slight, rumpled sportswriter who captivated readers for 26 years before his unexpected death two years ago at the age of 48. They started the Jeff Dickins Memorial Fund at Hamilton Community Foundation to honour Jeff's love of high-school athletics.
Spectator Sports editor Denis LeBlanc says Jeff's own beliefs and values guided the criteria of the bursary, which recognizes a high- school student who demonstrates skill in athleticism, academics, and community involvement. "Jeff sometimes found the world of professional athletes a bit discouraging," Denis says. "He liked the high-school and university players who just play for love of the game. And he recognized there are many kids involved in sports without being top athletes, so our bursary recognizes broad involvement in athletics."
Saltfleet District High School student Mawusi Sosoo was the first recipient of the $500 Spectator bursary, which was matched by the local B'nai Brith organization. She received the award at the annual B'nai Brith dinner in February 2005. The energetic young woman plays rugby, works the score table at school basketball games, volunteers in a basketball league and has a handful of academic awards to her credit. Mawusi also works part-time, helps out at blood donor clinics and volunteers at her church.
"I think Jeff would have said that Mawusi could teach professional athletes a thing or two about dedication and commitment," Denis comments.
Excerpt from 2004-2005 Annual Report