Laurie S. Connon Fund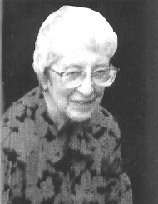 Laurie Connon has been on the receiving end of a stranger's generosity and she simply wanted to return the favour.  To that end, Miss Connon established a fund to support promising young musicians.  Music, singing in particular, had been her lifelong passion.
Miss Connon recalled the generosity of others when hardship hit her family during the Depression and her father lost his business. When she was 10 or 11 and her family had no money, someone paid for her to attend a YWCA summer camp. The experience meant a lot to her and as a result she also contributed to the Foundation's Spectator Summer Camp Fund.
Another benefactor stepped forward to encourage her singing talent. In lieu of payment for lessons, the teacher accepted a hedge for her garden from the family's business. Still others' mentoring efforts helped her achieve a teaching degree in singing.  Miss Connon's Fund is now part of the 'Note-Able' Music Fund at Hamilton Community Foundation.  This fund supports programs that provide opportunities for exposure to musical training for children and youth.