Pioneer Energy LP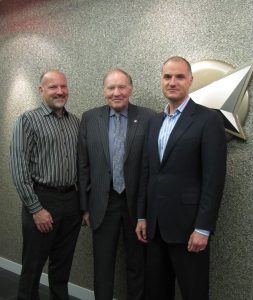 Pioneer Energy and its long history of community support were recognized this fall when it received the corporate Outstanding Philanthropist Award from the Association of Fundraising Professionals.
Murray Hogarth, Pioneer's founder, says he is "proud to have been the leader of a company that has been able to make a difference." A seasoned volunteer in countless community leadership roles, Murray's example established Pioneer's corporate value of philanthropy.
In 1999, Pioneer marked the millennium by establishing the Pioneer Petroleums Children's Foundation at HCF, and has made more than 250 grants totalling over $2.5 million. The company also created the Pioneer Petroleums Foundation Fund within HCF's Community Fund to help address Hamilton's most pressing needs. In addition, Pioneer generously supports a range of other charities across the communities where they are located.
 Equally important, Pioneer paves the way for others to make a difference through community philanthropy. Programs at their retail outlets, like Cent a Litre Days, Give What You Can, and School Bucks Community Bucks, encourage customers and partners to join them in meeting local needs.
 "Pioneer's people take a lot of pride in supporting the community," Murray says. "We're successful because of the communities we work in. It makes good business sense – and it's just right – to give back."
Excerpt from Fall 2011 Newsletter