Swire Family Fund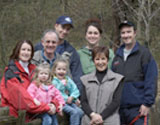 The 53-year-old Dundas residents relish their active, semi-retired life that emphasizes fitness and a deep appreciation of the natural beauty and recreation opportunities around them in their hometown.
So they've decided to give back in a way that will ensure others can enjoy the outdoors as they do.
Their inspiration, oddly enough, is Colonel Sanders.
Upon completing university, Glen Swire joined his family's business, a chain of Kentucky Fried Chicken franchises. For the next three decades he owned and operated outlets in the Hamilton area before selling the businesses in 2002.
By that time, he'd had plenty of good corporate citizens as role models – the first of whom was his father who contributed to a variety of charities during his business life.
A white-suited genteel southerner whose name is synonymous with Kentucky Fried Chicken was another important influence.
Colonel Sanders structured the Canadian arm of his restaurant empire as a charity, so that profits were redistributed to Canadian outlets with the proviso that franchisees would use them to support local community causes.
" He literally gave away millions of dollars through his lifetime," says Glen. "I consider Colonel Sanders a mentor in philanthropy."
The Swires wanted to give their energy and dollars to enhancing crucial community green spaces. As regular users of the Dundas Valley Conservation area, they recognize how outdoor recreation has increased their quality of life. So they set up the Swire Family Fund with the Hamilton Community Foundation. Right now, Glen and Debra are the fund's main advisors but eventually their children – Paul, 30, and Julie, 28 – will become more involved, as will their grandchildren.
" We looked into setting up our own family foundation, but decided that HCF could administer it for us with less cost and more professionally than we could do it ourselves," says Glen, who feels that everyone should give a percentage of their income to charity.
When they look around their Dundas community at the wealth of hiking and skiing trails that have enhanced their lives, they are doubly committed to spreading that enjoyment.
Excerpt from 2003-2004 Annual Report