Mission
Hamilton's Neighbourhood Leadership Institute nurtures engaged, reflective people to transform their neighbourhoods and communities.
Vision
A vibrant, inclusive Hamilton enriched and sustained by engaged community leaders.
Values
Inclusiveness
Authenticity
Equity
Commitment to act
The NLI
Hamilton's Neighbourhood Leadership Institute is a leadership and skill building program consisting of three streams: the resident stream, the professional development stream, and the youth stream.
The Resident Stream
At the resident stream emerging resident leaders from Hamilton's neighbourhoods receive leadership training while growing a local project idea into a neighbourhood-enhancing reality.
The program consists of 10 learning sessions, which focus on areas such as:
project management and team leadership,
conflict resolution and working with others,
communication and community awareness,
research and grant writing,
public speaking, and
self-advocacy and self-discovery
The city is the classroom for the NLI, as students engage in hands-on activities in neighbourhoods, learning from each other and from their wider community.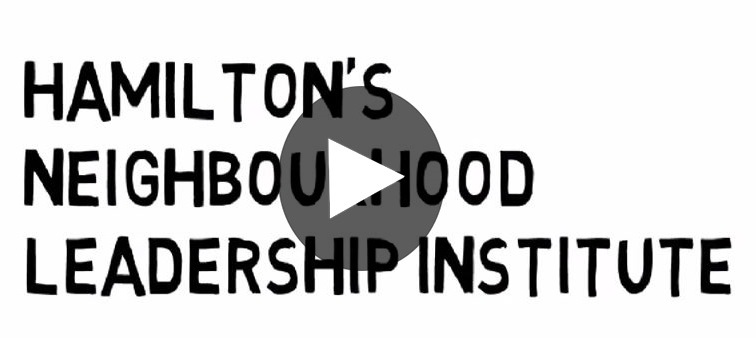 At its core, the NLI follows an evidence-based model that is continuously evaluated and informed by research.  Research tells us that strong local networks build resilient neighbourhoods, communities and cities. The NLI models this process through its two interconnected goals:
To enhance "self-knowledge" — the understanding of one's talents, values and interests, specifically as they relate to the ability to provide effective leadership and to build leadership competence (i.e., the capacity to mobilize one self and others to serve and work collaboratively)
To facilitate positive social change at the neighbourhood, community and/or institutional level.
Leadership, to the NLI, is guided by the following key principles:
Leadership is collaborative, values-based, inclusive and accessible to all people.
It is a process not a position.
It is socially responsible, and affects change on behalf of others.
Community involvement and service is a powerful vehicle for leadership.
Community collaboration and support – Resident Stream
The NLI works in collaboration with several Hamilton organizations, agencies and educational institutions.
Mohawk College has certified the course, meaning NLI graduates can receive a college-level credit for their work.
Community partners lend their expertise during the leadership training sessions.
Through the Hamilton Community Foundation (HCF), projects may be eligible for a small grant to support implementation in neighbourhoods.
As well, the City of Hamilton's Neighbourhood Action Strategy (NAS) supports the work of the NLI and its participants.
Alumni's projects – Resident Stream
Alumni support – Resident Stream
The NLI is invested in helping participants and their projects thrive. We are committed to continuing to support NLI Alumni in the development of their projects beyond the 10 learning sessions.
The NLI also offers additional workshops for NLI Alumni in the fall and winter months, and invites NLI Alumni back as co-facilitators of learning sessions during the resident-focused stream. Research shows that continuous contact with graduates is also beneficial because it encourages participants to maintain and enhance the networks and relationships they have built, and it motivates alumni to continue being active members of their communities.
To apply for the Resident Stream, click on Application and Guidelines
Application deadline: January 12, 2018
The Professional Development Stream
The NLI has launched professional development stream in October 2016. Developed in partnership with McMaster University's Centre for Continuing Education (CCE), the NLI's professional stream offers another opportunity for community skills building in Hamilton. The academically recognized Certificate in Leadership in Community Engagement is the first of its kind in the region and aims to support professionals working in a community development capacity grow the necessary skills, capacities and networks to undertake this complex and nuanced work.
Click here to learn more about the NLI – Professional Development Stream.
The Youth Stream
The NLI believes leadership development is a life-long learning process that is open to everyone. To help us create more opportunities for leadership development in Hamilton, the NLI is exploring the development of a Youth stream. Currently, research is being conducted to support the development of the youth stream, which would work with youth between the ages of 12-15 years old. The program is still being shaped by the research, but it will aim to support youth in realizing their potential as community leaders for social change through developmentally appropriate training and engagement opportunities. More details will be available here, so check back frequently to find out more.
*The NLI is funded in part through the Moffat Family Fund of The Winnipeg Foundation