Cultural Event Attendance
In 2010, 44% of people age 15 and over reported seeing at least one popular music concert in the Hamilton CMA within the last year – higher than the 39% average in other Vital Signs communities. People in Hamilton CMA also had higher than average rates for attending a cultural festival within the last year (44% compared to 41%). With respect to theatre attendance, Hamilton was at the Vital Signs average (45%), and slightly below average in attending a symphonic or classical music concert (14% compared to 18%).[1]
Two major festivals in Hamilton have increased their attendance over the last several years: the Festival of Friends now attracts an estimated 250,000 people every year and is the largest free annual music festival in Ontario.[2] The James St. North Supercrawl drew an estimated 50,000 people at this year's crawl – an increase from last year's 20,000, and 3,000 in its first year in pouring rain.[3]
Library Use
Library use continued to grow in 2010. There were some 6.3 million items checked out, up 4% since the previous year, and up 35% since 2007. The number of monthly digital downloads hit 5,000 for the first time in July, and has grown 83% since last year, driven primarily by the demand for e-Books. This number is projected to reach 10,000 by January 2012.[4]
Grants to the Arts
Two of the major granting bodies for the arts sector are the Canada Council for the Arts and the Ontario Arts Council. Over the last decade, grants to Hamilton artists from the Canada Council have increased by 44% to $950,575, up from $657,000 in 2001-2002.[5] Grants from the Ontario Arts Council to Hamilton have increased by 55% to almost $1.2 million last year from $775,000 in 2003-4.[6] These increases are similar to those in other cities. Hamilton receives between 2% and 3% of the total funding for Ontario from both granting organizations.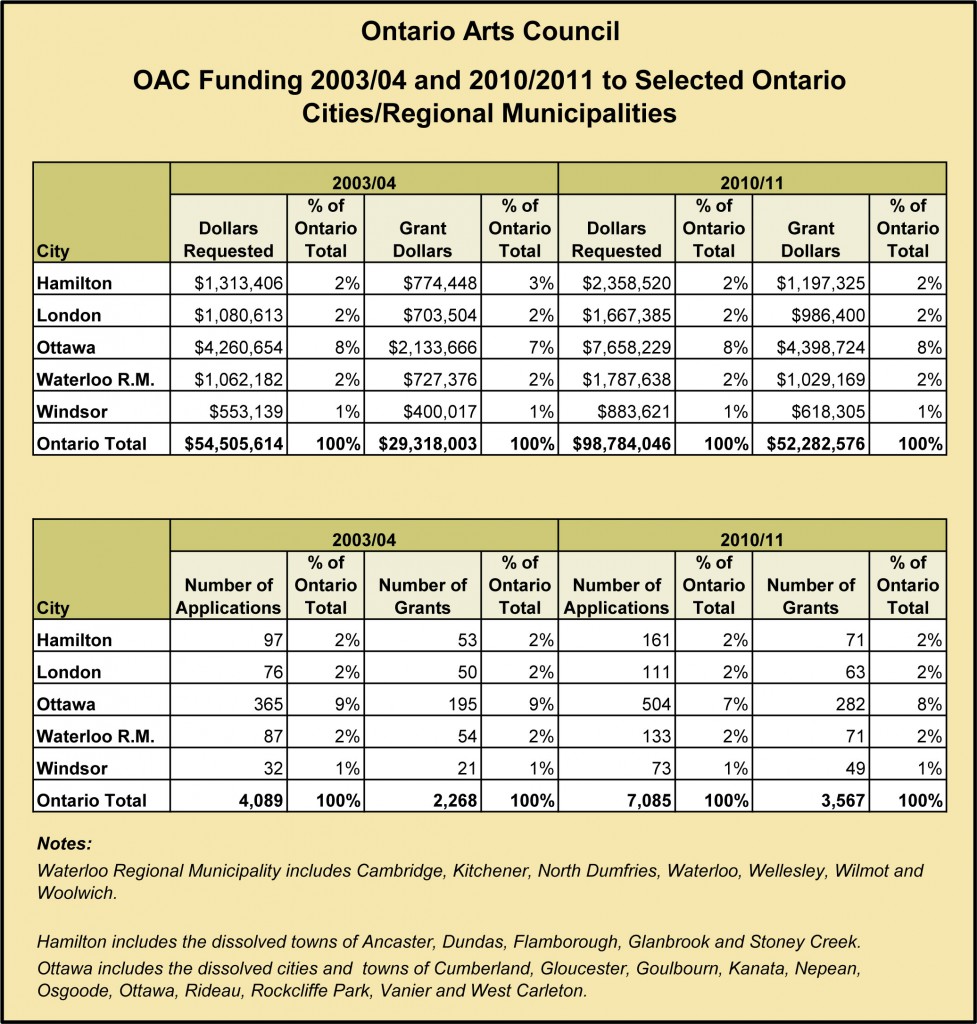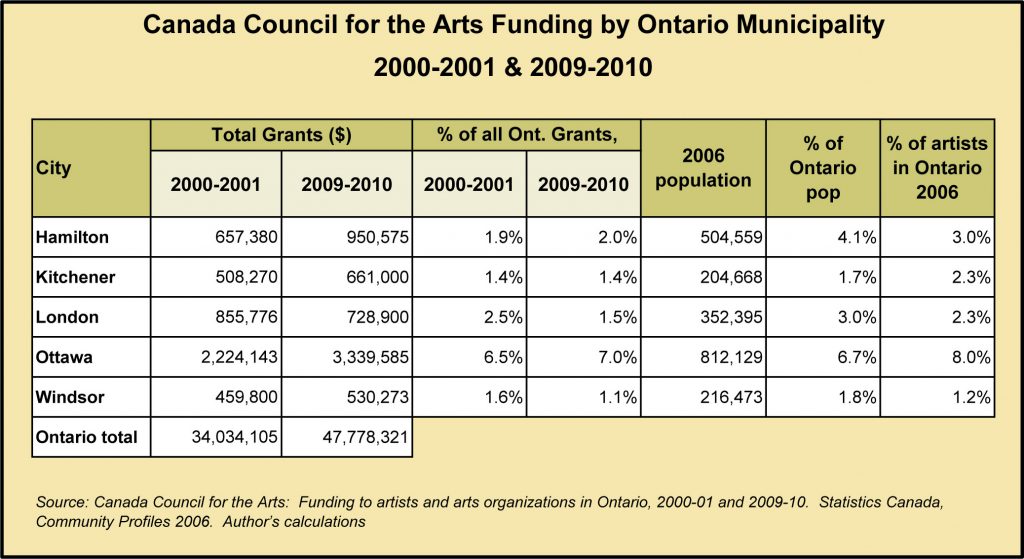 Arts and Culture Employment
As of 2006, Hamilton had 7,290 workers in cultural industries and occupations, which is 2.6% of the labour force. The provincial average was 3.4%, and the national average was 3.3%. There were 1,680 artists in Hamilton in 2006, making up 0.6% of the labour force, similar to the national average of 0.8%. The number of artists has increased 22% in the last 15 years, growing faster than the overall labour force.[7]
"Artists" include nine occupations:[8]
actors and comedians,
artisans and craftpersons,
authors and writers,
conductors, composers, and arrangers,
dancers,
musicians and singers,
other performers,
painters, sculptors, and other visual artists, and
producers, directors, choreographers and related occupations.
"Cultural workers" include creative, production, technical and management occupations in the areas of broadcasting, film and video, sound recording, performing arts, publishing, printing, libraries, archives, heritage, architecture and design.[9]
For a map of where the arts are located within the City of Hamilton, visit the Centre for Community Study's map,or visit their website: www.communitystudy.ca.
To read more about what's happening in the arts and arts policy across Canada, go to Hill Strategies Research.
Heritage Properties
The number of individual heritage properties rose by 12% over the last decade to 241 properties. There was also an increase in the number of properties within Heritage Districts in Hamilton to 358 in 2010 compared to 343 in 2000.[10] No new heritage districts were added over this time, so the increase in properties is due to property severances and new construction within the district. For more information on specific heritage properties in Hamilton and cities across Ontario, visit the Ontario Ministry of Tourism and Culture.
---
[1] Statistics Canada. General Social Survey on Time Use, 1998, 2005, and 2010.
Data supplied by Community Foundations of Canada.
[2] City of Hamilton, Emergency and Community Services, 
Update to Council January 2011.
[3] Hamilton Spectator, Supercrawl estimates as high as 50,000, September 12, 2012. Supercrawl is getting super big, September 2, 2011.
[4] Personal communication, 2011. Hamilton Public Library.
[5] Canada Council for the Arts, 2000-1 & 2009-10. 
Funding to artists and arts organizations in Ontario.
[6] Personal communication, Ontario Arts Council.
[7] City of Hamilton, Culture Division.
[8] Hill Strategies Research, July 2010.
Counting artists and cultural workers based on the 2006 census. Unpublished.
[9] Hill Strategies Research, July 2010.
Counting artists and cultural workers based on the 2006 census. Unpublished.
[10] Personal communication. City of Hamilton, Heritage and Urban Design,
Planning and Economic Development Department.