Arts and Culture

Employment in Arts and Culture

In 2016, there were 2,205 artists living in Hamilton – a 31% increase from 1,680 in 2006. Most are musicians or singers. The past decade in Hamilton has also seen a 23% increase in the number of people working in cultural occupations, to 8,975 in 20161. Hamilton is slightly above the national average in artists (0.81% vs 0.78%) as a percentage of the labour force, and slightly below for cultural workers (3.3% vs 3.8%)2.

Research from 2011 found the average salary for an artist in Canada's largest 11 cities was $31,400, approximately 36% less than the average for all occupations3.

"Artists" include nine occupations (with 2016 Hamilton numbers in parentheses):
Actors and comedians (135)
Artisans and craftpersons (235)
Authors and writers (345)
Conductors, composers, and arrangers (55)
Dancers (165)
Musicians and singers (665)
Other performers (65)
Painters, sculptors, and visual artists (245)
Producers, directors, choreographers, and related occupations (295).
"Cultural workers" includes artists, but also creative, production, technical and management occupations in broadcasting film and video, sound recording, performing arts, publishing, printing, printing, creative marketing, libraries, archives, heritage, architecture and design.
Arts and Culture

Grants in the Arts

In 2016-7, Hamilton artists and cultural organizations received $2.49 million in grants from Canada's most prominent arts funders — the Canada Council for the Arts and the Ontario Arts Council — a 16% increase from 2010-1 when $2.15 million was received, and a 75% increase since 2002-35. The City of Hamilton has also increased its funding to the sector, enhancing the City Enrichment Fund6 by $1.14 million for arts and cultural heritage projects for a three-year period, 2015-2017. Through this fund, the City provided $9.2 million from 2015-2017 to support arts organizations, festivals, events, artist projects and capacity building7.

In 2016-7, Hamilton received both more grants and more funding from the Ontario Arts Council, than comparator cities London, Windsor, and Waterloo, but fewer than Ottawa and Toronto.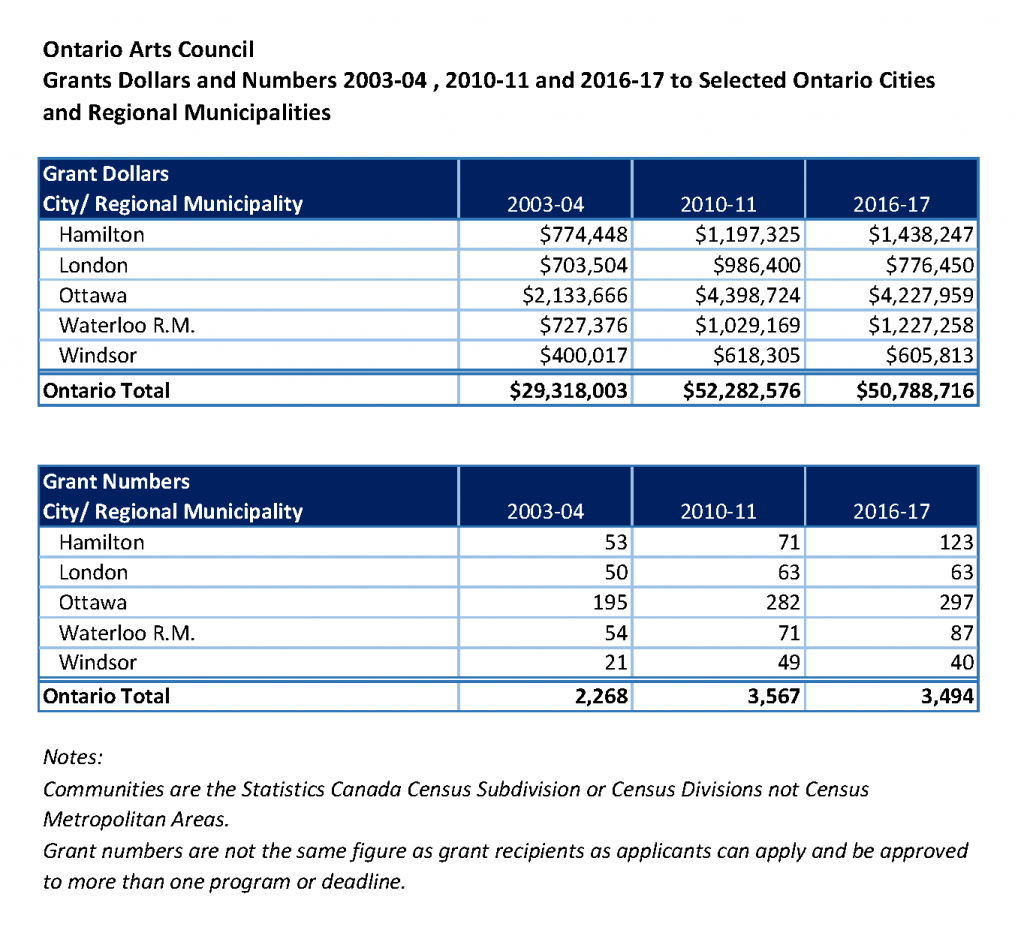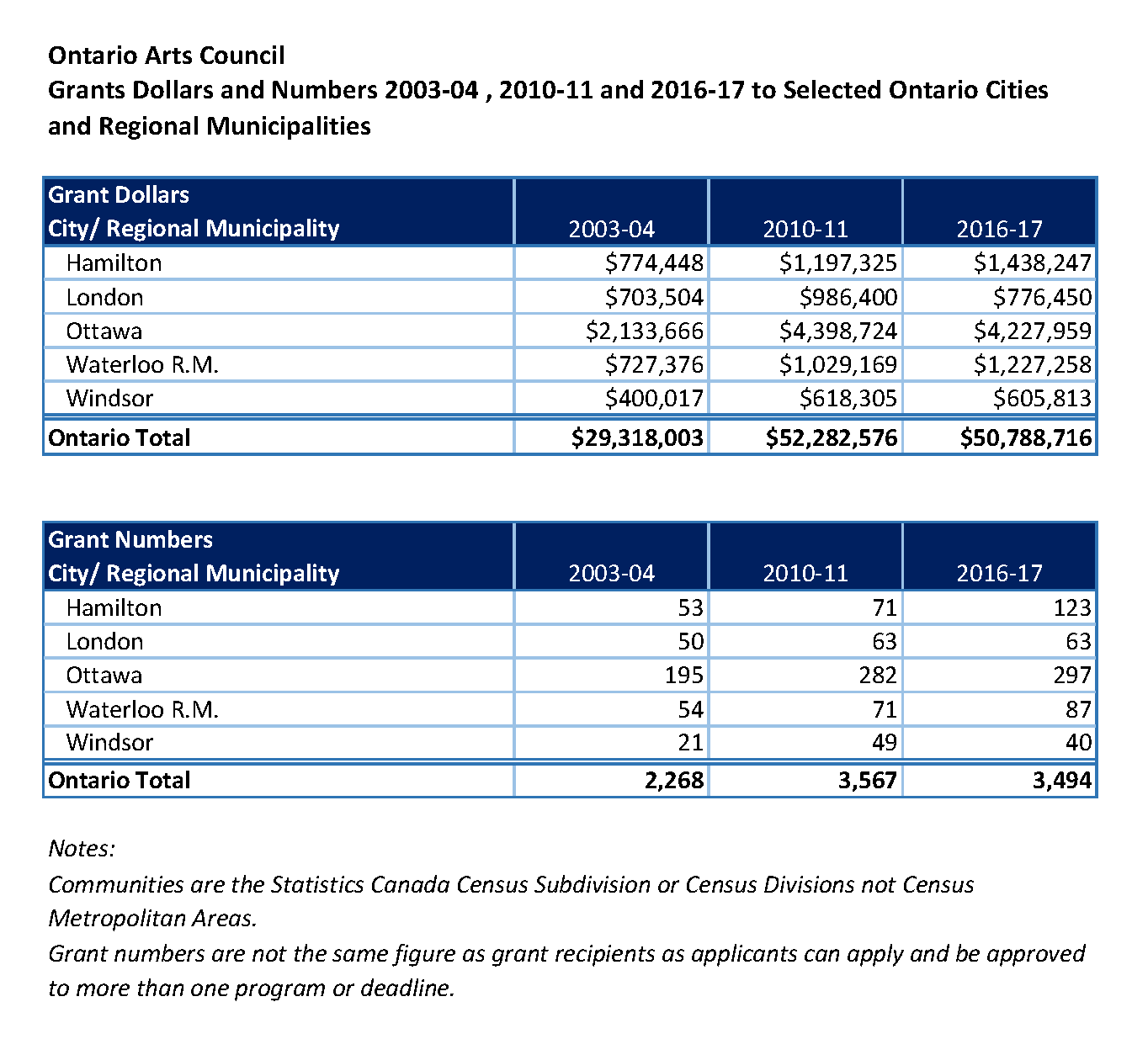 Arts and Culture

Number of Festivals and Events

In 2017, there were 336 festivals and events held outdoors on City of Hamilton property, up from 302 in 2016, and 288 in 2015. The wide range of events included festivals like Supercrawl and Festival of Friends which each attracted over 200,000 people, as well as many smaller neighbourhood events. Over 90% of these events were offered free of charge 8.
Arts and Culture

Library Use

Hamilton Public Library has 22 branches and two bookmobiles that serve as cultural hubs providing free access to collections, spaces, services, technology, and programs across Hamilton. After experiencing growth of 39% between 2008-11, HPL has maintained steady usage between 2011-17 with over 12 million uses9 annually. Digital collections like eBooks and eAudiobooks have grown 256% since 2011 to nearly 1.5 million uses in 2017. In 2017, over 180,000 people attended over 10,000 programs, up from 2011 when 5,600 programs were offered. HPL provided access to technology and the internet over 1.8 million times in 2017 10.
Arts and Culture

Number of Heritage Properties

In 2017, there were 271 individual heritage properties in Hamilton, an increase from 241 properties in 2010, and 215 properties in 2000. Hamilton is also home to seven heritage districts which include 348 properties. No new heritage districts have been added in Hamilton since amalgamation in 2000. The City of Hamilton also maintains a list of properties that are of possible historical and cultural significance. As of 2017, there are 1,556 properties on this list compared with only eight prior to 2010 11.
Arts and Culture

Natural Heritage

Research has shown that being within 400 meters of open spaces and/or parks has positive effects on health and mental health. In Hamilton, 78.3% of people lived within 400 metres of an open space or park12. The following is a detailed map of which neighbourhoods have access to open spaces.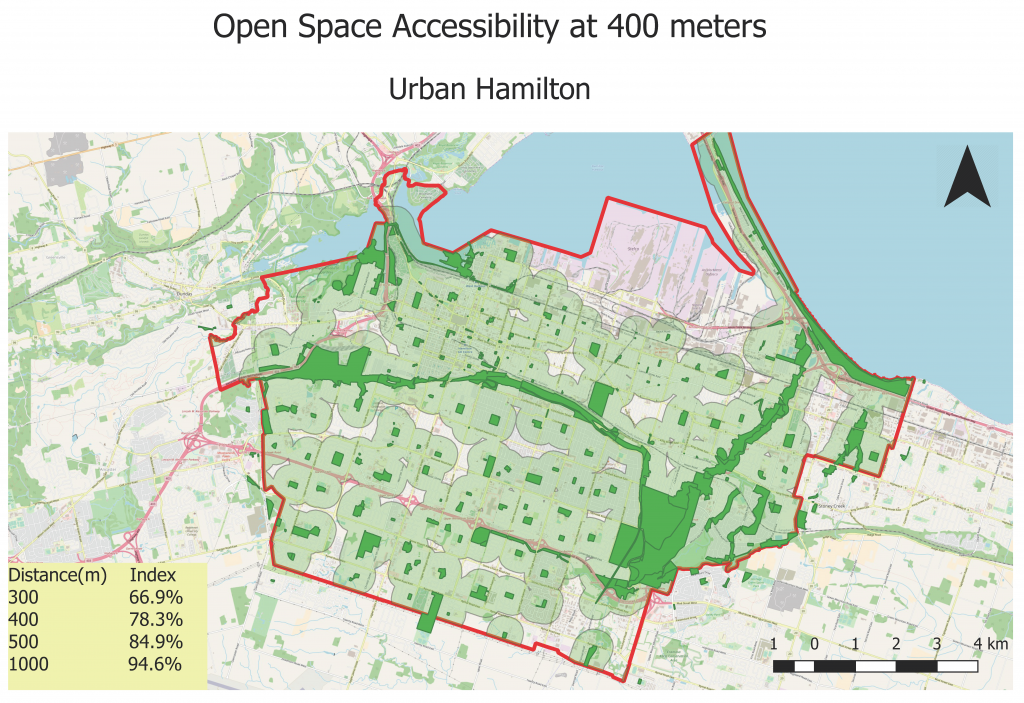 Arts and Culture

Number of Pieces of Public Art and Monuments

Locally, public art is defined as "art that is created by artists through a public process and existing on a publicly accessible City of Hamilton owned property". There are currently 51 pieces of public art and monuments in Hamilton up from 31 in 200913. The development of public art is guided by the City of Hamilton's Public Art Master Plan, and a map of the different pieces of art is available here.