Learning
High School Completion
As of the 2016 census, 88% of Hamiltonians, age 25-64, have completed at least a high school diploma, up from 84% in 2006, but still lower than the provincial average of 90%1. School boards are now able to track what percentage of students complete their OSSD within five years of starting Grade 9. Just over 86% of HWCDSB and 79% of HWDSB students finish within five years; the provincial average is 86.5%2. In general, girls have higher completion rates than boys, and overall graduation rates vary across schools.
As the Spectator's All About Us demonstrated, there are significant neighbourhood differences in terms of high school completion: there were 11 neighbourhoods where less than 4% of residents, age 25-64, had not completed high school, while six neighbourhoods had more than 30% of residents who had not completed. Find the full map at this link: All About Us.
Learning
Post-Secondary Completion
The percentage of Hamiltonians who have completed either a post-secondary certificate, trades program, diploma or degree rose to 62% in 2016 from 58% in 2006, but was lower than the provincial average of 65%3. One quarter of Hamiltonians had a university degree, lower than the provincial average of 32%. Hamilton is slightly higher than provincial average (7% vs 6%) for trades program completion. Similar to high school completion, women achieve university degrees at higher rates than men (27% compared to 22%)4. The Spectator's All About Us showed great differences between neighbourhoods: in seven neighbourhoods, over 80% of residents, age 25-64, had completed some post-secondary education, while in another nine neighbourhoods, less than 40% residents had done so. Find the full map at this link: All About Us.
Learning
Standardized Student Test Scores
Hamilton students are tested in Grades 3, 6, and 9 by the "EQAO", which measures reading, writing, and math performance against provincial standards5. The HWCDSB consistently achieves higher than provincial averages, with one exception in 2016-2017: Grade 6 math and Grade 9 applied math. The HWDSB is usually just under the provincial average, but has declined in seven of the nine test areas over the past five years. In addition, 38% of its Grade 6 students met the standard in math vs 50% provincially. There is a great variation between schools in both boards: 13 elementary schools had less than 20% of Grade 6 students meet provincial math standards, while six schools had more than 75% meet the standard.
For full results, or to search EQAO scores for individual schools, visit the EQAO website.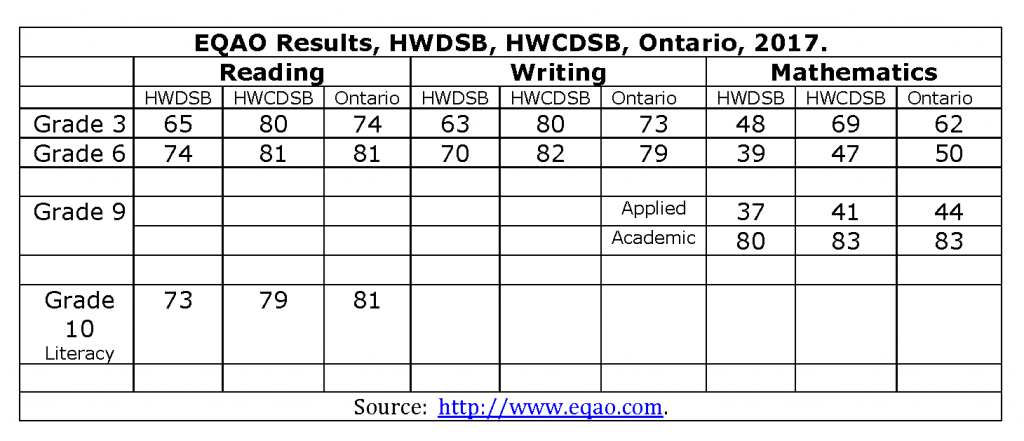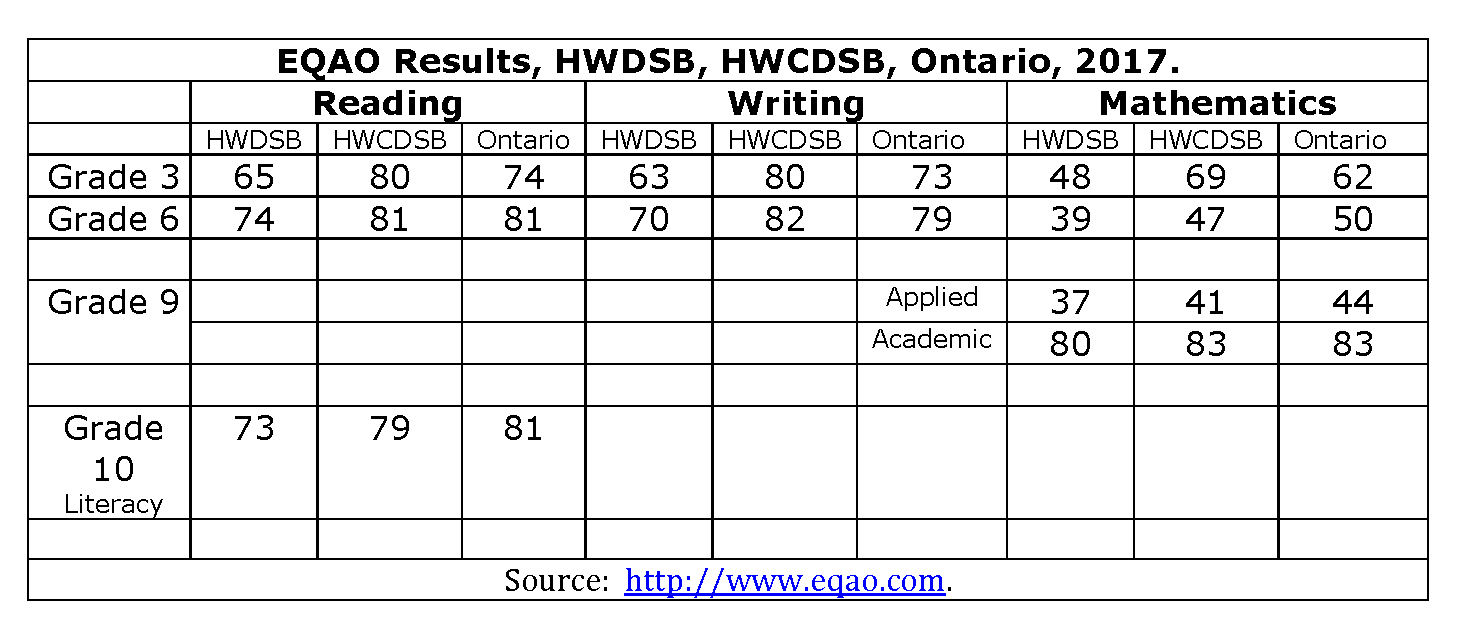 Learning
Early Development Instrument
The Early Development Instrument (EDI) assesses readiness for school among senior kindergarten students across five areas:
Physical health and well-being
Social competence
Emotional maturity
Language and cognitive development
Communication skills and general knowledge.
Children are rated by teachers and can be "vulnerable" on any one or more areas. There is an overall vulnerability rate which is the percentage of children who are vulnerable in one or more area. The vulnerability rate has been shown to be a strong predictor of future school success.
In 2015, Hamilton children had an overall vulnerability of 31%, which was similar to prior years, but was improved in Language and Cognitive Development and Communication Skills and General Knowledge. Vulnerability was higher in Emotional Maturity, and slightly higher in Physical Health and Well-being. After a decade of being above the provincial averages, Hamilton children pulled within one percentage point: 30.7% compared to 29.4%6.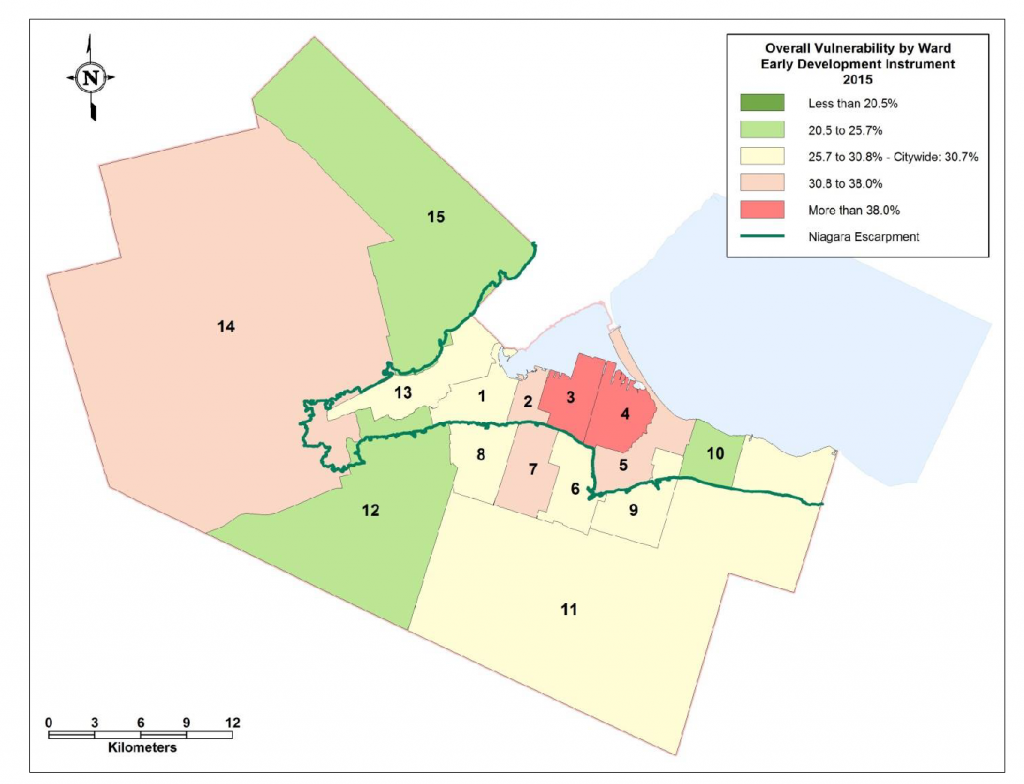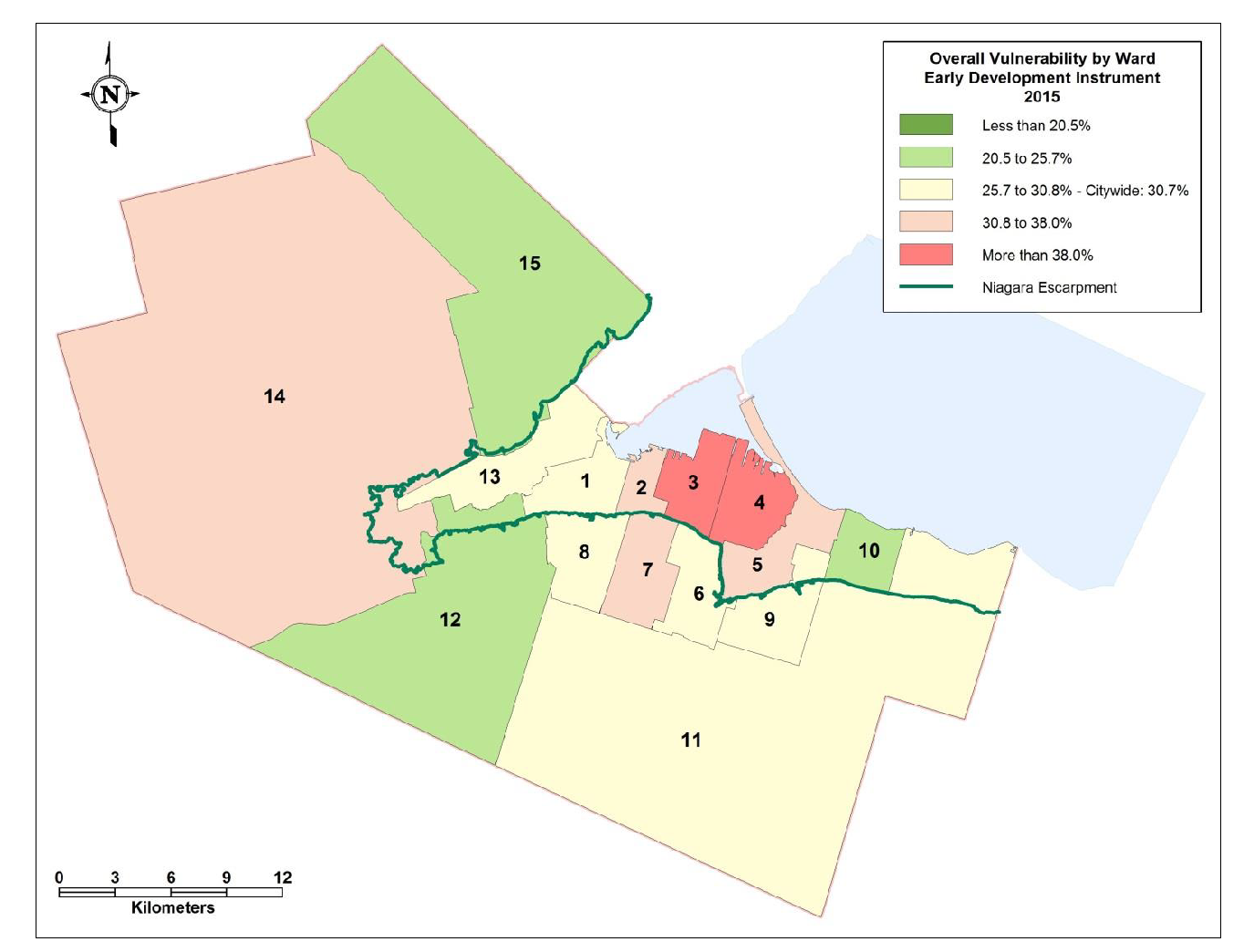 The EDI varies greatly by neighbourhood and ward: Wards 3 and 4 have the highest rates of overall vulnerability, at 47% and 40% respectively, while Wards 10,12, and 15 were below 25%. Past research has shown the strongest factors that influence vulnerability are7:
Gender﹘boys are almost twice as likely to be vulnerable.
Students with English as a second language are twice as likely to be vulnerable.
Students with parents who did not finish high school have a much higher risk of being vulnerable, and
Students born from September through December (and are thus younger than their classmates) are more vulnerable than their classmates born at other times of the year.
1 Statistics Canada. 2016 Census, Census Profile.
2 Ontario Ministry of Education. School Board Progress Reports. Accessed April 2018.
3 Statistics Canada. 2016 Census, Census Profile.
4 ibid.
5 All of the following information is from https://www.eqao.com.
6 City of Hamilton, 2017. The Hamilton Early Years Community Plan 2016-2020. Appendix 8.
7City of Hamilton, Social Development and Early Childhood Division. Originally cited in Hamilton's Vital Signs 2011.